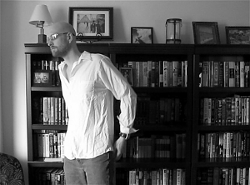 Hi, my name is John Elder and I've been building and running companies online for over 19 years. That's me in a really wrinkly shirt looking much more serious than I usually am…
I'm an entrepreneur, author, marketer, and web developer who works mainly with php and mysql, html/css, Ruby on Rails, and a little javascript now and then. I also occasionally develop desktop software using Visual Basic because it's easy to bang stuff out really quickly with it.
The Past…
Back in 1996/97 I founded and built one of the Internet's earliest Banner Exchange Advertising companies and sold it to a publicly traded company at the height of the original dot com boom, then built a biotech portal website and sold most of that company to some investment bankers in New York. They were going to take the company public but the bottom dropped out of the market and the dot com crash destroyed that idea. I wasn't even 20 years old at the time and I had mostly cashed out by then anyway.
After that I built some pretty handy search engine submission software, called the Submission-Spider that's been used by over three million individuals, businesses, and governments in over 45 countries. I also built a number of other fairly popular pieces of software like the Award-me Award Submission software, Yip Submit, Linkwizard Pro FFA Link Submitter, and others.
I also created, wrote, and published WebPromotion-Weekly, one of the first Internet Marketing Newsletters online (back before we called them blogs). I published around a hundred issues and had a little over 20,000 subscribers at the peak, which was pretty cool back then.
Apart from WebPromotion-Weekly, I've also written and published over 500 articles on finance, economics, investing, travel, and healthy living that have been viewed over 150,000 times at goarticles.com, articlebase.com, and ezinearticles.com where I've been named a Platinum Expert Author four times (under various pen names).
The Present…
Today I live Las Vegas and really love hiking the mountains around the city. I'm not much of a gambler, but you'd be surprised how many cool things there are to do here that don't revolve around the casinos…and the weather is basically perfect most of the year!
After recently finishing an online dating/gaming company that I co-founded called Introz, Inc. building the Internet's most shallow dating website, called YouLookGoodTogether.com (that crowdsource matches people based on zero dimensions of personality), I'm currently working on building an online school that teaches computer programming / coding, using videos and hands-on help called Codemy.com.  The company is fairly new but we've already got around 3,000 students. It's pretty fun.
I'm also banging around on a sort of search engine / price comparison shopping site that may or may not ever see the light of day… and a few other smaller projects.
The Future…
I'm always looking for new fun projects to work on. So if you're interested in working with me, or want to try to lure me into your startup (I make a great Advisor, Board Member, Co-founder, or even freelance developer – I've seen and done it all!), shoot me a message using the contact me form here on the site.  I'm an insane multi-tasker and workaholic so if your project interests me, I might just jump in.
Let's see, I also have a solid finance background; graduating with honors from Washington University in St. Louis with a degree in Economics and an undeclared minor in International Relations if you care about that sort of thing. So that's fun.
Browse around the site here for a more complete list of my past projects – if you're interested, as well as updates on current projects or to get in touch with me.
Find John Elder On The Web:
Google Plus Profile | Facebook | Linkedin | Codecademy | Amazon Author Profile